Trefriw Woollen Mills.
See the weaving and water powered turbine
At Trefriw Woollen Mills traditional Welsh bedspreads, travelling rugs and tweeds are manufactured from the raw wool. Most of the textile machinery is over 50 years old and is powered by electricity generated by a vintage turbine.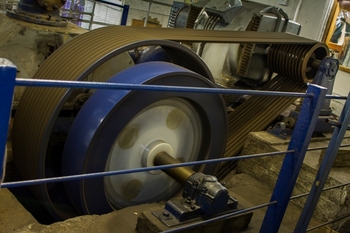 Originally a "pandy" (Welsh for fulling mill), situated on the banks of the river Crafnant to use the soft water to wash the wool and drive the water wheels, the mill is still run by the descendants of Thomas Williams who bought it in 1859.

The wool is carded, spun, doubled, dyed, warped and woven on the premises.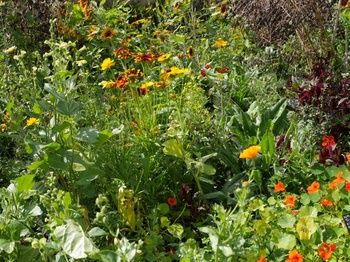 During the Summer the Weaver's Garden contains plants which provide natural fibres, soaps and dyes. Rag rug making is demonstrated every Tuesday and hand spinning is demonstrated every Wednesday and Thursday (June - September)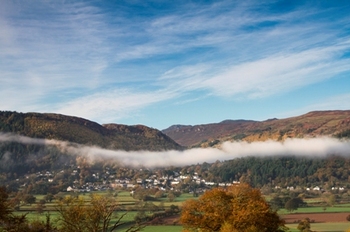 Trefriw is a quiet village situated in beautiful and varied countryside in the Conwy Valley. There are lovelly walks all around, rivers, waterfalls and lakes to visit and a selection of pubs, eating places and accommodation.

It is the hub of a number of walks shown on website link and the two beautiful lakes Crafnant and Geirionydd are accessible by car.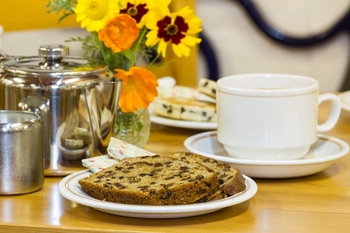 Products can be purchased in the mill shop together with pure wool knitwear and accessories and garments made from natural fibres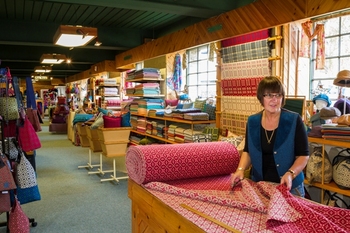 OPENING TIMES

Please ring on the day if you are making a special journey to view the weaving.

WEAVING
MID FEBRUARY - MID DECEMBER
Monday - Friday
10.00 a.m. - 1.00 p.m. and 2.00 p.m. - 5.00 p.m. (including Bank holidays except for Good Friday and May Day Bank Holiday)

WORKING MILL MUSEUM
EASTER - OCTOBER
Carding engines, spinning mules, doubling machine, warping mill etc. which run according to production requirement
Mon - Fri (except Bank Holidays)
10.00 am - 1.00 pm and 2.00 pm - 5.00pm

SHOP:
Shop open all year Mon - Fri (except Winter Bank Holidays).

TURBINE:
April - October daily 9.30 a.m. - 5.30 p.m.
November - March: Mon - Sat 10 a.m. - 5.00 p.m
Closed Dec 25, Dec 26 and Jan 1

WEAVER'S GARDEN with plants which supply natural dyes and fibres: June - Sept. Hours as shop

RAG RUG MAKING demonstrations
June - September: every Tuesday

HAND SPINNING demonstrations and an opportunity to "try weaving yourself"
June - September: every Wednesday and Thursday
Welsh weaving since 1859
Trefriw Woollen Mills. Statistics: 233 click throughs, 7213 views since start of 2023
Attraction in
Trefriw
Conwy
Entrance Charge

admission free, regret no school parties

Opening Times

See at bottom of page for opening details

Trefriw Woollen Mills.

Main Road

Trefriw

Conwy

LL27 0NQ

UK

Our Website

News & Special Offers