Trefriw Woollen Mills
Welsh tapestry woven in Snowdonia
Welsh "tapestry" bedspreads have been woven at Trefriw Woollen Mills for over 100 years. The choice of colourings is both classic and contemporary and the timeless geometric pattern compliments both modern and traditional homes. The designs are very clear because two cloths are woven on top of each other and the figuring is created when the bottom cloth is brought to the surface of the fabric.

This double weave is also produced in patterns with smaller repeats which are used for throws, cushions, waistcoats, dinner sets and purses.

Tapestry products can be ordered on-line at website link.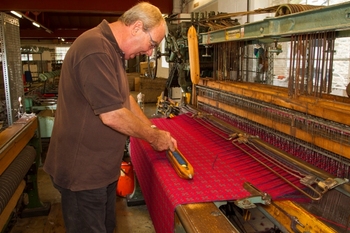 The yarn for the tweed is made by blending, carding and spinning various colours of dyed raw wool to get a heathery effect. Heritage tweed products in houndstooth and herringbone designs include hats, caps, scarves, capes and skirt lengths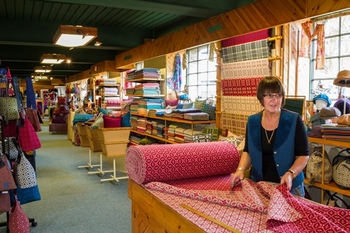 Optical blending (i.e. the effect created when the eye takes in a number of colours and mixes them) is also exploited in the Joseph travelling rugs which have a multi-coloured warp and three different coloured wefts which mingle together for soft rich shades.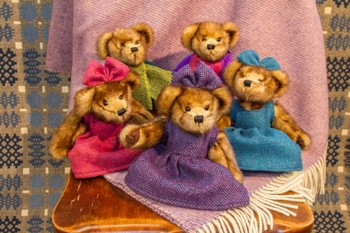 Our pure wool bedspreads, travelling rugs and tweeds woven onsite are available in our shop together with ladies' garments, hats, caps, bags, purses, throws, cushion covers and dinner sets made up in our fabrics. We also stock pure wool knitwear and sheepskin products..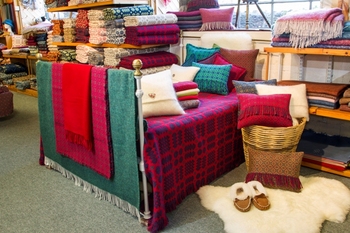 The Dobcross looms on which the heritage fabric is woven and the hydro electric turbine (over 50 years old) can be viewed.

Trefriw is situated in beautiful and varied countryside in the Conwy Valley. There are lovely walks all around, rivers, waterfalls and lakes to visit, friendly pubs and guest houses.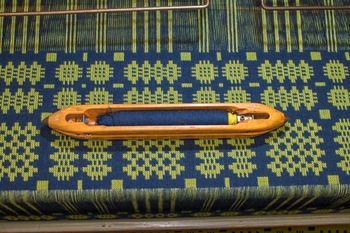 OPENING TIMES

Shop open all year Mon - Fri (except Winter Bank Holidays).

Water turbine:
April - October daily 9.30 a.m. - 5.30 p.m.
November - March: Monday - Saturday 10.00 a.m. - 5.00 p.m.
CLOSED DECEMBER 25 & 26 and JANUARY 1

Weaving:
MID FEBRUARY - MID DECEMBER
Monday - Friday 10.00 a.m. - 1.00 p.m. and 2.00 p.m. - 5.00 p.m.
(including Bank holidays except for Good Friday and May Day Bank Holiday)

Please ring on the day if you are making a special journey to view the weaving.

Working mill museum:
Carding engines, spinning mules, doubling machine, warping mill etc. which run according to production requirements
Open Easter - end October
Mon - Fri (except Bank Holidays)
10.00 am - 1.00 pm and 2.00 pm - 5.00 pm


Weaver's garden with plants which supply natural dyes and fibres:
June - September Hours as shop
Pure wool products made in Wales - an authentic memento of your visit.
Trefriw Woollen Mills Statistics: 478 click throughs, 5114 views since start of 2023
Shop in
Trefriw
Conwy Valley, five miles north of Betws-y-Coed, Snowdonia
Opening Times

See bottom of page for opening times

Contact Details

Check availability and book online

Trefriw Woollen Mills

Owner/Manager: Elaine Williams

Main Road

Trefriw

Conwy

LL27 0NQ

United Kingdom

Our Website

News & Special Offers